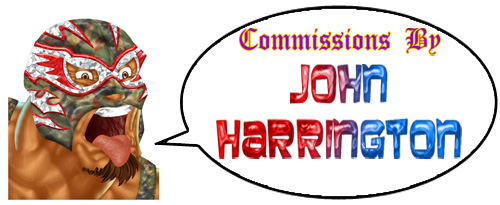 Single-Character Digitally Colored Commission
$30


SINGLE CHARACTER WITH BASIC/NO BACKGROUND
ADDITIONAL CHARACTERS $5

Commercial & Work-for-Hire Projects

I AM AVAILABLE TO TAKE ON COMMERCIAL PROJECTS SUCH AS COVER ART FOR BOOKS AND COMICS, MOVIE POSTERS, ETC.

PLEASE CONTACT ME WITH THE DETAILS OF YOUR PROJECT FOR A QUOTE
If your project is different than these options, please contact me for a quote.
I gladly consider all requests, but I reserve the right to refuse any request.
Payment can be made via Paypal, Payza or Google Payments.
All pieces are done on a pre-pay basis only. Payment is non-refundable unless the commission is cancelled by John Harrington.
Commissions are usually completed within 1-2 weeks of receipt of payment. Please be aware that this is only an estimate, and due to variables such as the complexity of the piece and the artist's workload, delays may occur.
As the purchaser of a commission, you receive only the physical copy of the artwork itself; no other rights are conveyed by this transaction, including rights of reproduction. Artist retains all rights in the artwork, including all copyright rights, and reserves the right to publish, license or otherwise authorize the publication of the artwork by any other party for any reason, with no obligation or duty of accounting to you.
© 2012 John Harrington. All rights reserved.
Any unauthorized reproduction or use of materials contained in this web site is strictly prohibited.